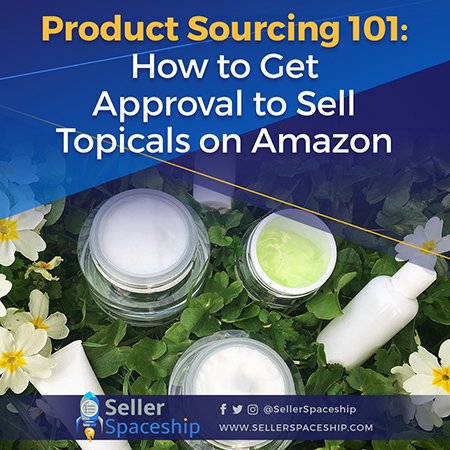 Word Count: 834
Estimated Reading Time: 4 minutes
Most recently, we've had some of our readers and lead list subscribers reach out to us about getting approval to sell topical products on Amazon. In this blog post, we answer some of the most common questions sellers ask when applying for approval in this Beauty and Health subcategory.
What Are Topicals?
Topicals are products that are applied to the surfaces of the human body. They are meant for external use and are not meant to be ingested. Examples include gels, creams, sprays and the likes.
I'm Already Ungated in the Beauty and Health Category.

Do I Still Need to Get Approval to Sell Topicals?

Yes, unfortunately. Topicals are a gated subcategory in Beauty and Health, and you will need to gain approval first to be able to sell these products. We know this is somewhat of an inconvenience, but keep in mind that Amazon is very resolute in its efforts to protect its customers, and over the years, there have been a lot of problematic topical products that have made their way to the Amazon marketplace to warrant such a measure.
How Do I Get Approved?
To get approved, you'll need to have/do the following:
Get a Professional Seller Account – this allows you to sell unlimited products on Amazon, and is the first prerequisite to getting approved. Take note that this will cost you $39.99 every month.
For FBM Sellers, you must have these account health metrics – if you are the one fulfilling your orders, check if you are able to meet these required metrics:

Order Defect Rate of < 1%
Pre-fulfillment Cancel Rate of < 2.5%
Late Shipment Rate of < 4%

Order Topical Products from a Reputable Wholesaler – to apply for ungating, purchase at least 10 units of a topical product that is ALREADY listed on Amazon. Keep in mind that your purpose here is to get approval and not to make profit, so stick to low-mid value products instead of more expensive ones. Also when ordering, make sure that you use the same exact details you have on your Seller Central account. This includes your address, email address, name, and phone number. 
Prepare Your Invoice – The first thing Amazon will check is the name of the wholesaler. If it's not in the invoice, make sure to write it down. Also, include the ASIN, UPC, and Item Model Number. Once all of these details are complete, you may scan or take a picture of the invoice. 
Prepare Product Images – once you have completed your purchase order, invoice, and merchandise, you may start taking product photos and upload them. Take note of Amazon's image requirements:

Image must be live, actual photos, not computer-generated images

Image must clearly show all sides of the product as well as the packaging

Packaging must be in the country's local language

Image must clearly show the product name, model number, and name and business location of the manufacturer
Once you have all of these ready, you may now apply for approval. To apply, follow these steps:
Log in to your Amazon Seller Central Account, and from the Inventory Menu, select "Add a Product.

Add in the ASIN of the product you ordered to get approval.

Click on the 'Listing Limitations Apply" hyperlink, and click the "Request Approval" button to get the ball rolling on your application. 
From our experience, it is best to submit an application during US business hours (Amazon observes Pacific Standard Time) for faster response. Response time from Amazon varies; it may take a couple of hours to a couple of days. Make sure to check your email inbox for the confirmation email that confirms if your application has been accepted. You may also check the status of your application in the 'Selling Application Status" tab.
What If I Don't Get Approved?
Keep in mind that not everyone gets approved when they submit an application for approval in any gated category. The best course of action when your application is rejected is to get in touch with Seller Central so that you will know exactly why your application was rejected. Once you identify the issue with the requirements you submitted, you can review and fix the requirements and resubmit your application. Another option is to use an ungating service if you can afford it. The advantage of using an ungating service is that you won't have to deal with any of the hassles of applying for approval since the service will take care of everything.
Is Applying For Approval in Topicals Worth It?
From our perspective, getting ungated is always good since it allows you to enter a marketplace playing field which has much less competition. Being in this position may allow you and a limited number of sellers to dictate market price, which leads to better profit margins. However, it is also important to consider the overall status of your business before making product investments on gated categories.
We hope that this blog post makes your application easier, and if you have any questions, areas of concern or application experiences to share, don't hesitate to reach out to us or leave a comment below. Until next time!