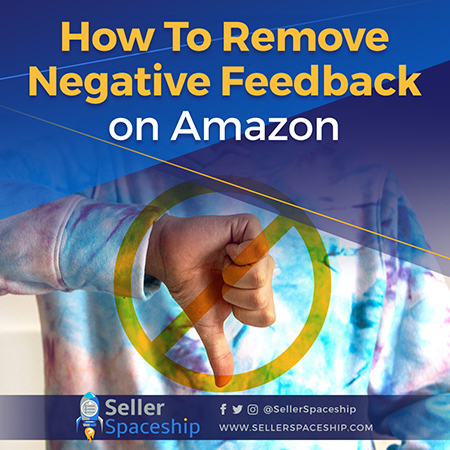 Word Count: 891
Estimated Reading Time: 4 minutes
It's fairly common knowledge that almost all Amazon sales occur through a listing's Buy Box (at least 82%), so to remain competitive for it, it's very important to maintain positive seller metrics.
One of the metrics you should be monitoring is your Average Feedback Rating which is based on the feedback you've received over the last 12 months. If you want to remain highly competitive for Buy Box shares, you'd want to maintain a feedback rating of at least 95%.
What Should I Do When I Receive Negative Feedback?
For us sellers, it's a given that sometimes, even with our best efforts, we receive negative feedback from some of our customers. This isn't necessarily a bad thing, as negative feedback can be constructive for our businesses since these comments may help identify areas in our operations which need improvement.
It is, however, still important to have negative feedback (even neutral ones) removed as these may impact your sales and profit. If you chance upon a negative review, make sure to read it and keep the following things in mind:
Amazon May Remove Negative Customer Feedback
In some situations, Amazon may remove or strike through negative customer feedback. These situations are the following:
Feedback contains obscene or profane language

Feedback contains the seller's personally identifiable information (full name, home address, phone number, email address)

Feedback is a product review (however, if the feedback includes comments about service you provided, Amazon will not remove it)

Feedback is about delivery experience facilitated by Amazon (Amazon FBA or Buy Shipping Service) 
You may request Amazon to remove these types of negative feedback through Feedback Manager. Take the following steps:
Go to the Feedback Manager. Hover your cursor over Performance, then click Feedback.  
In the recent Feedback Table, select "Request Feedback Removal" by clicking on the dropdown box under the Actions Column. 
Keep in mind that feedback removal requests must be made within ninety (90) days of feedback submission. Also, feedback removal requests must only be made through Feedback manager. Directly contacting Amazon to have feedback removed may result in your account being deactivated. 
What Should I Do If Amazon Won't Remove Negative Customer Feedback?
As mentioned previously, Amazon will only remove negative customer feedback in the situations stated above. If the negative customer feedback is about the condition/authenticity of the product received or service you provided, Amazon is not going to remove it. The best course of action here will be to address the customer's issue and contact the customer and request to have the feedback removed.
Some Things To Remember before Requesting a Customer to Remove Negative Feedback
Before getting in touch with a customer who left a negative review, it's important that you know the rules to follow when making such a request to a customer:
You may not offer anything (full refund, gift certificate, discounts, etc…) in exchange for the customer removing the negative feedback.

You may not pressure your customer into removing the negative comment.
Violation of these policies may result in your account being deactivated and your seller privileges removed.
From Our Experience
We have experienced some success in having customers remove negative feedback.
The first thing that we usually do is to immediately issue a full refund and then let the customer keep the item received as a token of appreciation for his/her business. Take note that we do this immediately after spotting the negative feedback, and we DO NOT offer to do this in exchange for feedback removal. This may be a big loss, but if you think about it, getting the negative feedback removed is well worth it as it keeps your Feedback Rating up, and positions you to be more buy box competitive.
When getting in touch with the customer when requesting to remove negative feedback, you should be able to do the following things:
Apologize for the negative shopping experience
Explain what you have done to address the customer's issue
Make a request for the customer to remove or update his or her feedback
Provide instructions on how to do so for the convenience of the customer
We usually send our first and only follow-up after seven (7) days of sending the 1st email.
Download the EXACT email templates we use!
Get Your Negative Feedback Removed!
If the customer refuses or does not reply after the 2nd email, we stop attempting to contact the customer to make sure we do not violate Amazon TOS. What we then do is post a public reply on Feedback Manager to show that we did our due diligence in reaching out to the customer and resolving his or her order issues. Doing so also shows your professionalism as a seller, and may encourage potential customers to buy from you despite that negative review.
This is the public reply we post:
"Please accept our apologies for any inconvenience you experienced when shopping with us. We have already made sure to address issues relating to your order, and we hope we were able to resolve them to your satisfaction. If you have any further concerns regarding your order, please feel free to get in touch with us."
We hope that this blog post makes your application easier, and if you have any questions, areas of concern or application experiences to share, don't hesitate to reach out to us or leave a comment below. Until next time!