Word Count: 1, 897
Estimated Reading Time: 6.7 minutes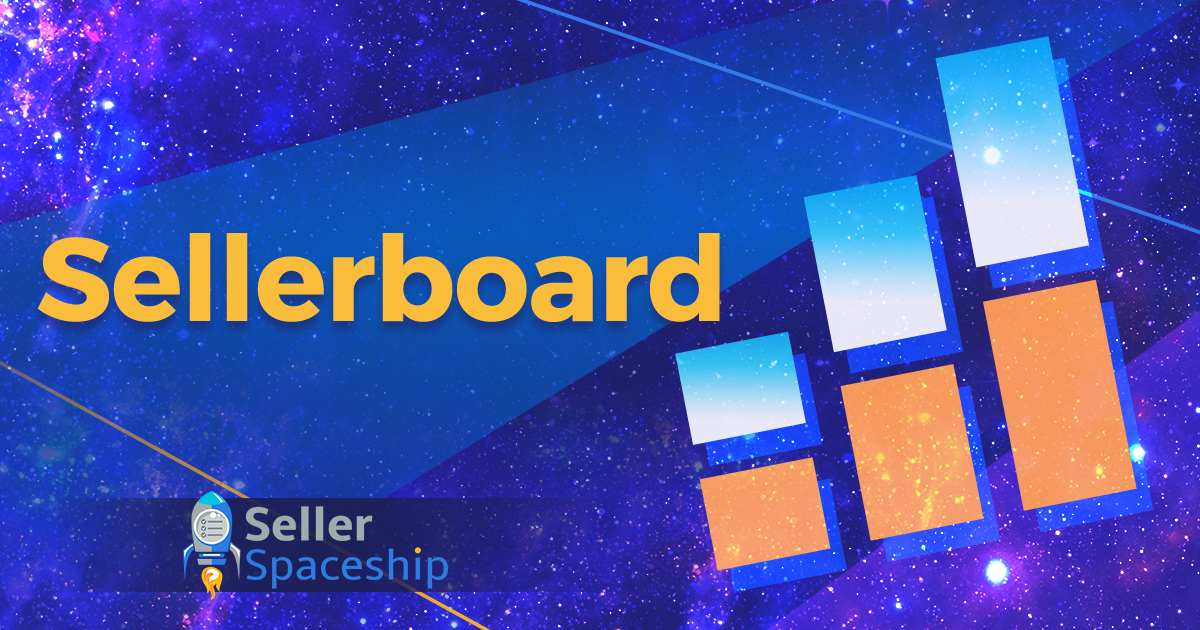 Sellerboard for Amazon: A Quick Look
Platform
SaaS (Cloud Web App)
Pricing
Standard - $15/monthly
Professional - $23/monthly
Business - $31/monthly
Enterprise - $63/monthly
Key Features Summary
Fees and Expense Tracking, KPI Reports, Profit and Loss Reporting, Product Trends, Cashflow Management, PPC Optimization, Individual Product Reporting, Inventory Management, Data Export, Automation, Autoresponder, Returns and Refunds Reimbursement, Users & Rights Management, Listing Change Alerts
Integrations/Compatibility
Amazon (US, CA, MX, DE, UK, FR, ES, IT, NL, SE, BR, TR, IN, UAE, SA. EG)
Compare to Similar Products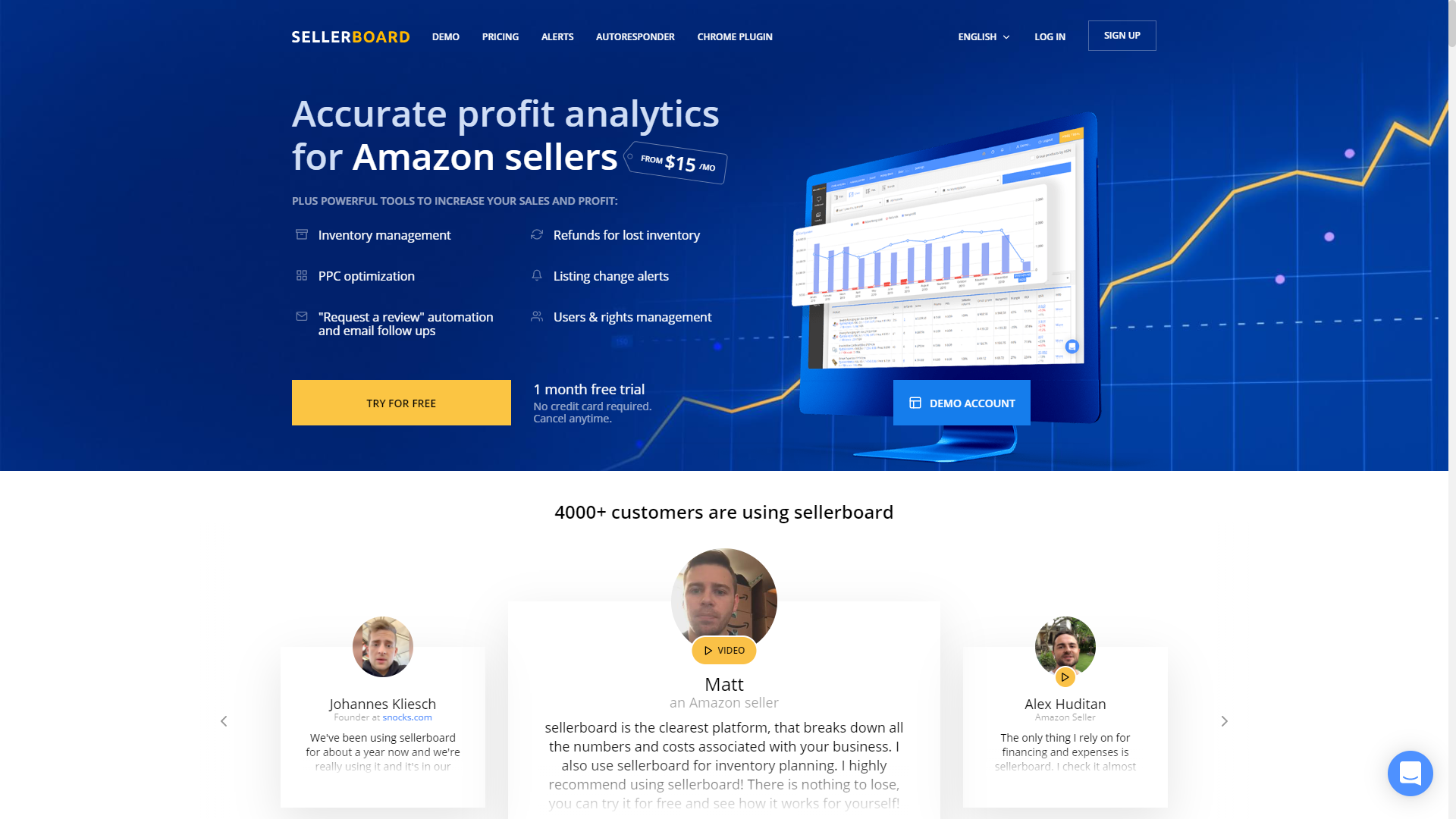 Founded by Vladi Gordon in 2017, Sellerboard is a fast-rising Amazon FBA Accounting Software solution that provides profit analytics for Amazon sellers. Sellerboard automated accounting features allow users to easily analyze the profit and cost-effectiveness of their business, as well as monitor key performance metrics. Sellerboard's popularity continues to increase, and currently, the software has over 4,000 users.
Dashboard
Sellerboard's highly informative dashboard provides you with an instant view of your most important transaction data. You can view your sales, orders, no of units ordered, refunds, estimated payout, gross profit, and net profit by specific time periods (today, yesterday, this month). You also get to see a detailed breakdown of your Amazon fees such as selling fees and commissions, PPC ad spend, costs of returns and refunds, and promotion costs. You can also view your business costs such as your prep center fees and virtual assistant costs.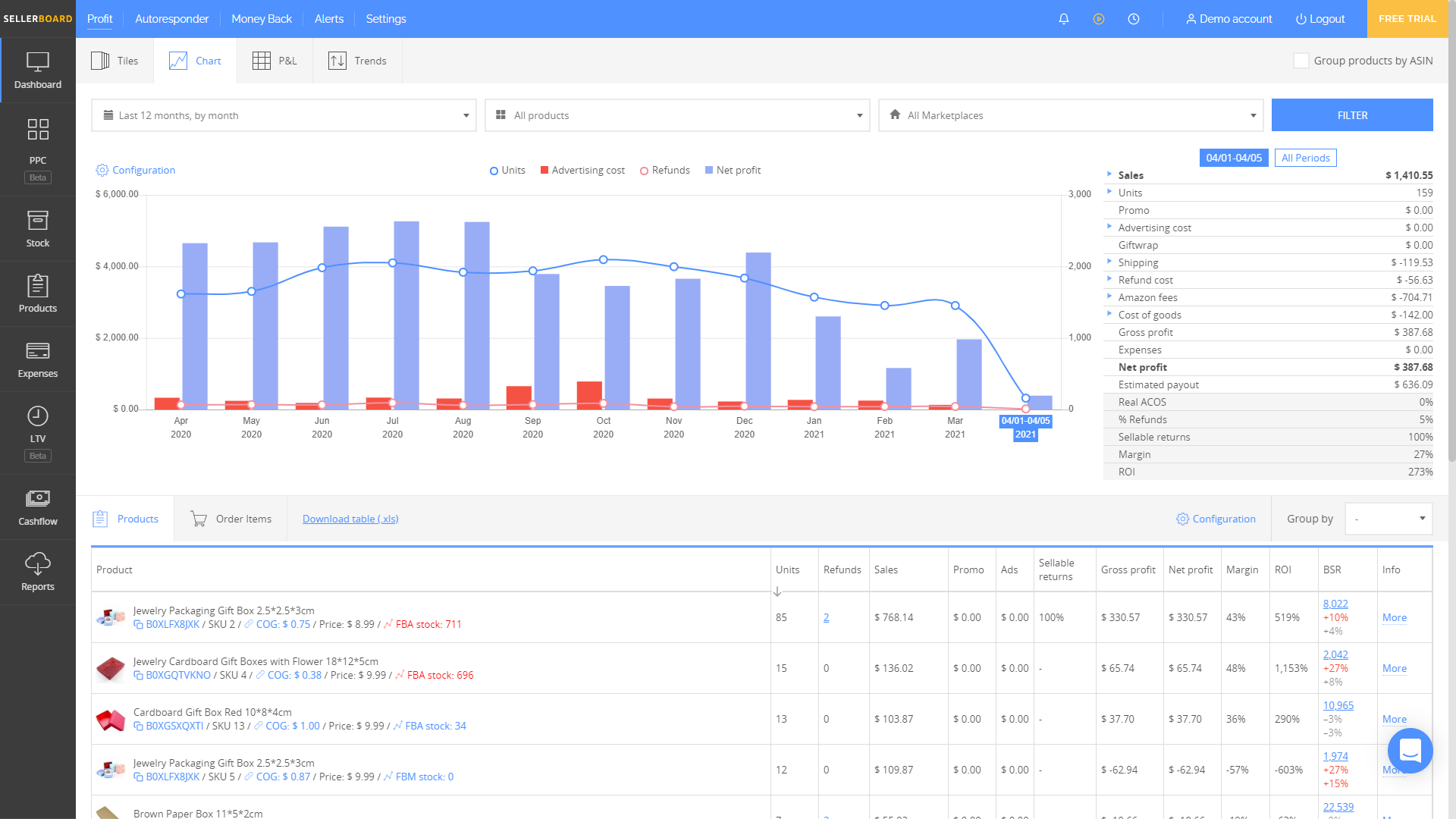 Sellerboard Charts
The Sellerboard charts allow you to quickly view and analyze your key performance indicators (sales, number of units, profit, cost of return, etc..). The charts are easily configurable and highly customizable, and you can set time frames (last year by month, last month by day) and the scale of information presented. You may also filter the view by marketplace or product. There is also the option of viewing a full summary or perform an in-depth examination of your product list by specific time periods and particular product details.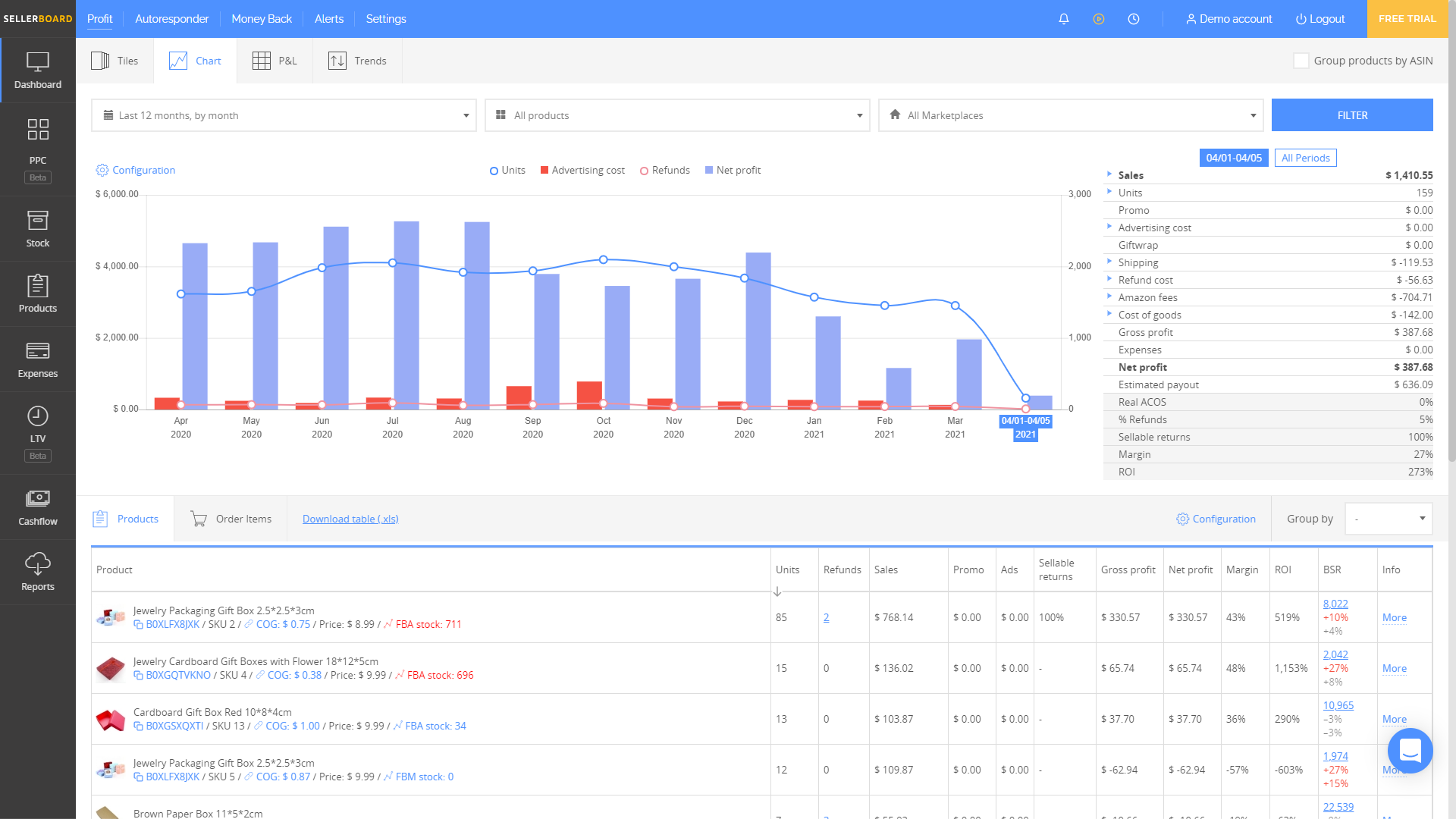 Profit and Loss View
This feature provides you with valuable business intelligence as it gives you a highly detailed breakdown of your sales figures and costs (Amazon fees and business costs). You have the option to set time periods, level of data presented, filter your view by marketplace and products ordered and fulfilled during specific time periods.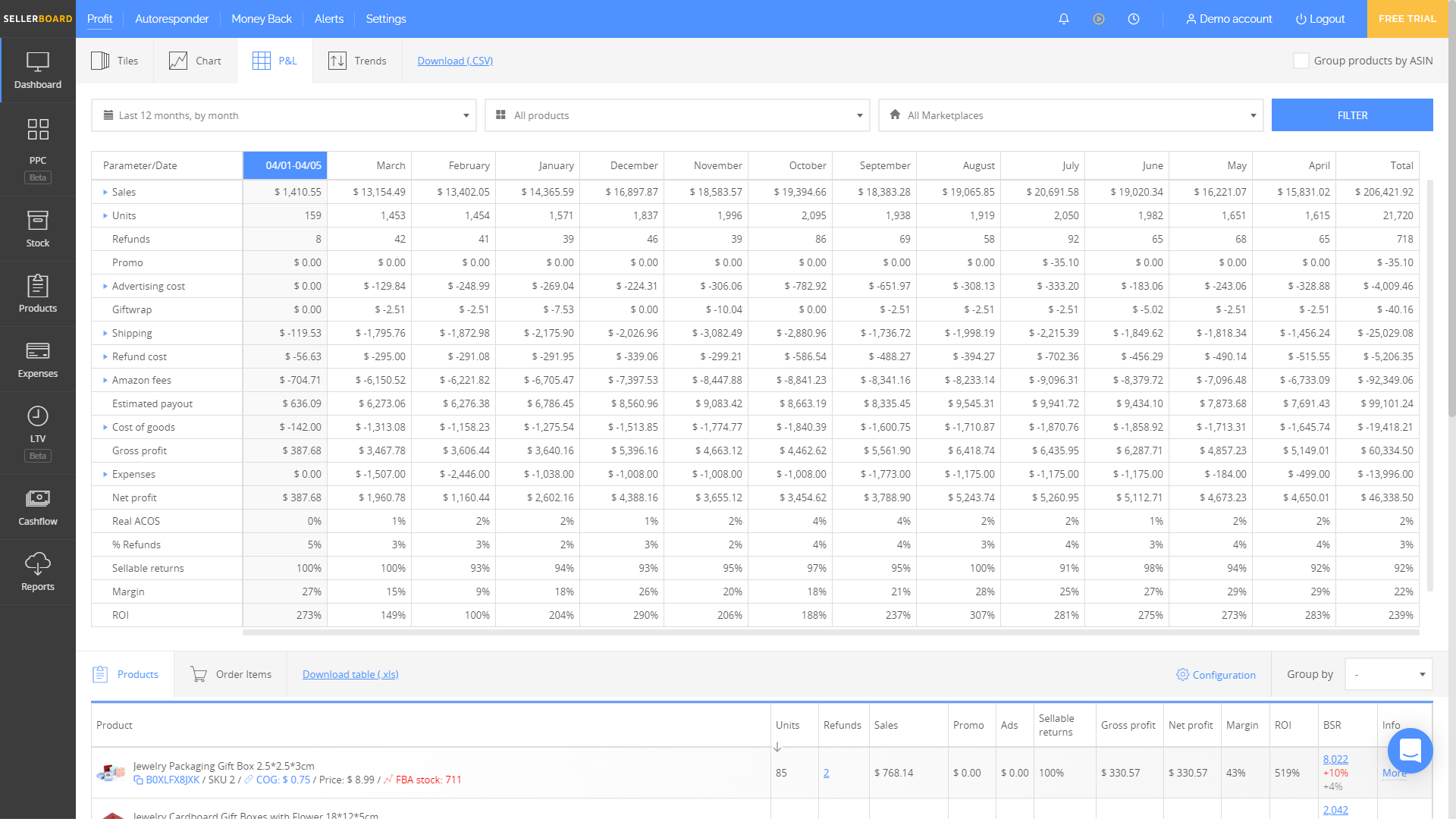 Trends
Sellerboard's Trends feature enables you to monitor the most important product KPIs (best seller ranking, sales, returns, profit, etc..) to ensure your business's profitability. You may set a specific product KPI and a time period to view a table that shows the monthly performance of your products. This helps you make quick decisions on your non-performing SKUs, as you can compare this month's data to the previous month's, or sort the table to see which KPIs have dropped significantly.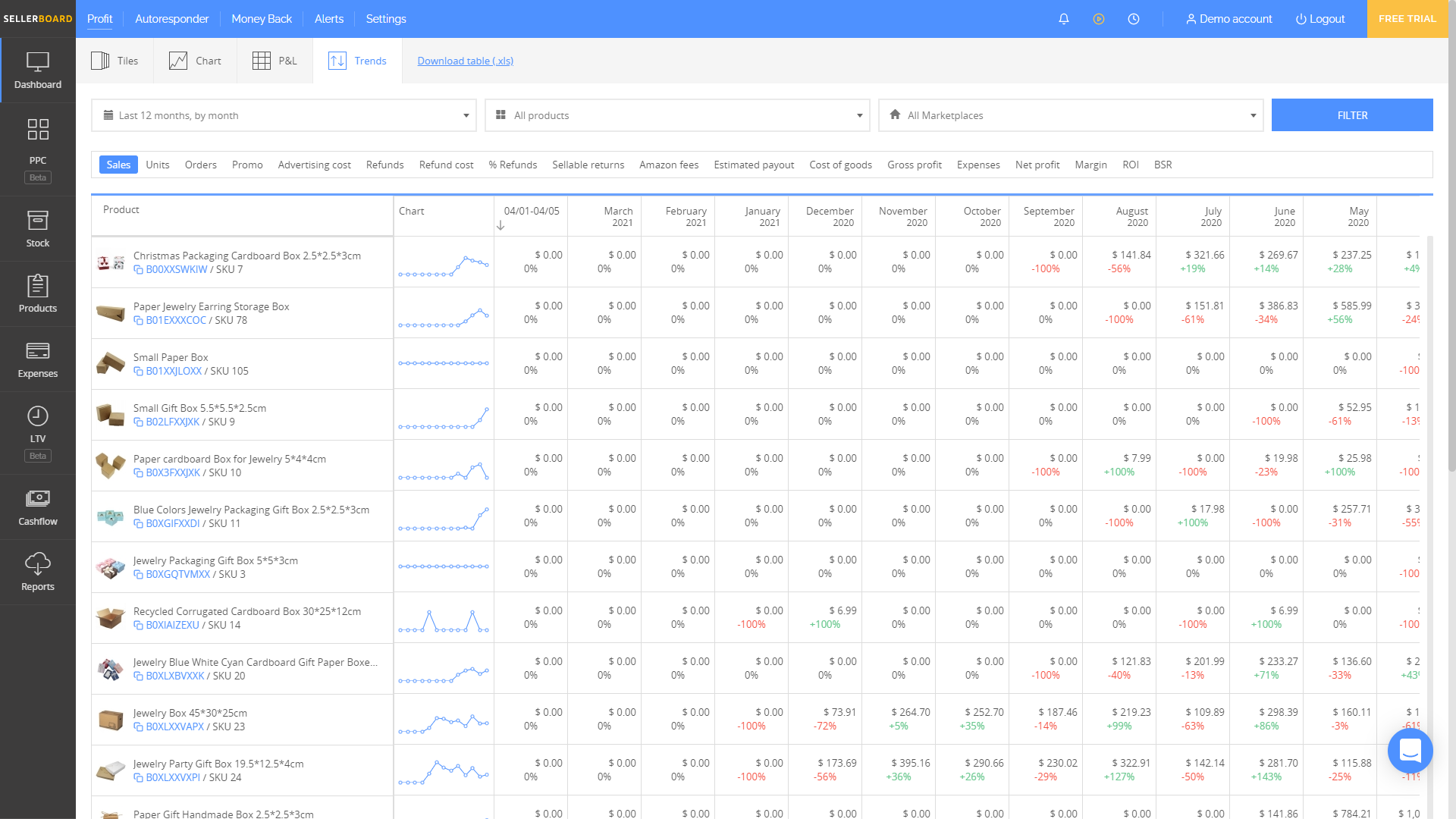 Cashflow Management
Sellerboard allows you to make sound business management decisions as it enables you to accurately forecast your cash flow. The "add" button in this feature allows you to input additional cash investments you make in your business, cost of goods, dividends, and even value-added tax. Sellerboard also automatically fills in payments and expenses.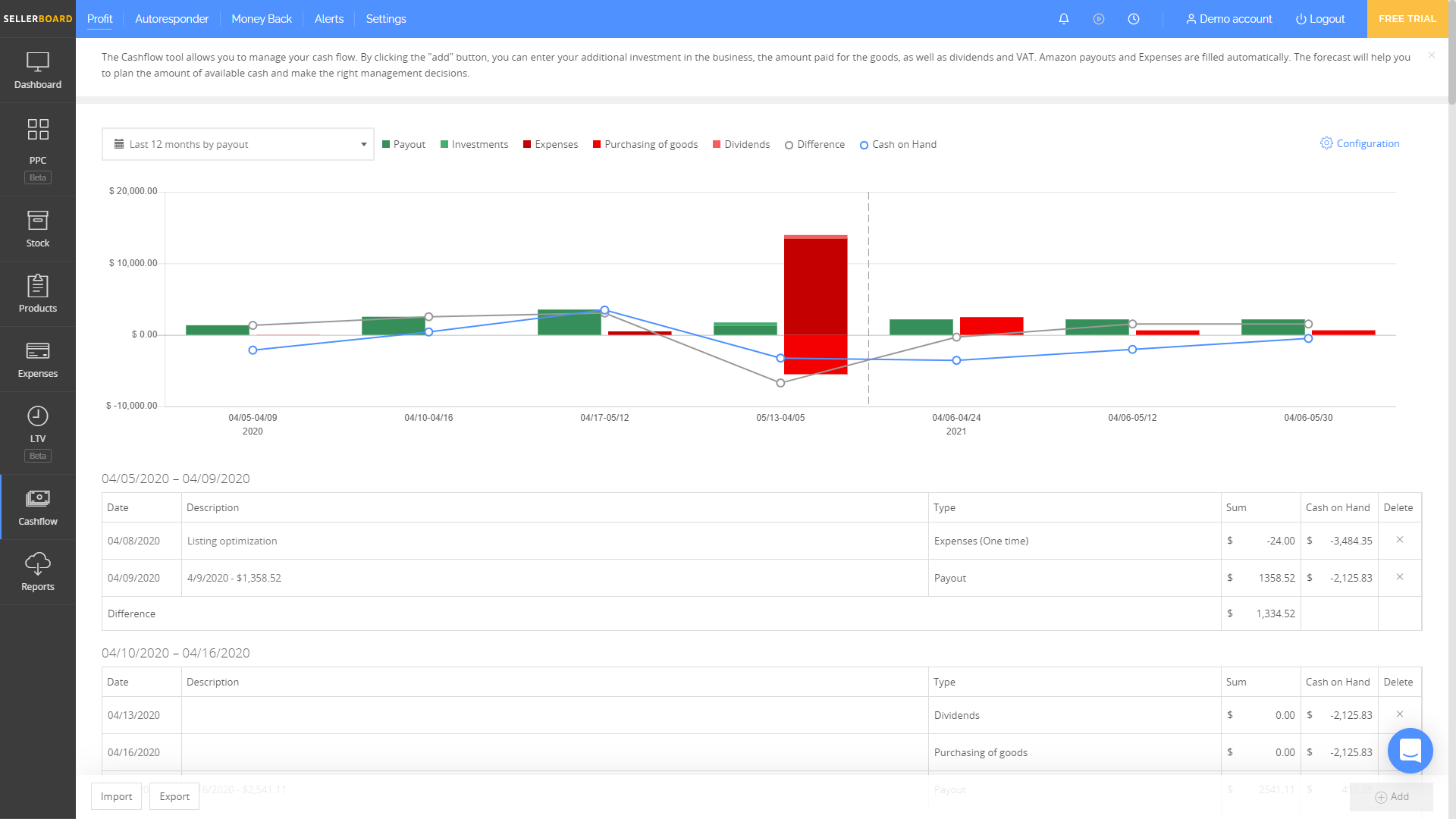 PPC Ads Optimization
Through this feature, you can make sure that your PPC campaigns, ad groups, and keywords remain profitable as it allows you to track and optimize them with relative ease. Sellerboard utilizes its proprietary algorithm to come up with a PPC campaign's estimated profit. Using this estimate, it then makes recommendations on bid optimizations based on its computed break-even ACOS and keyword bids.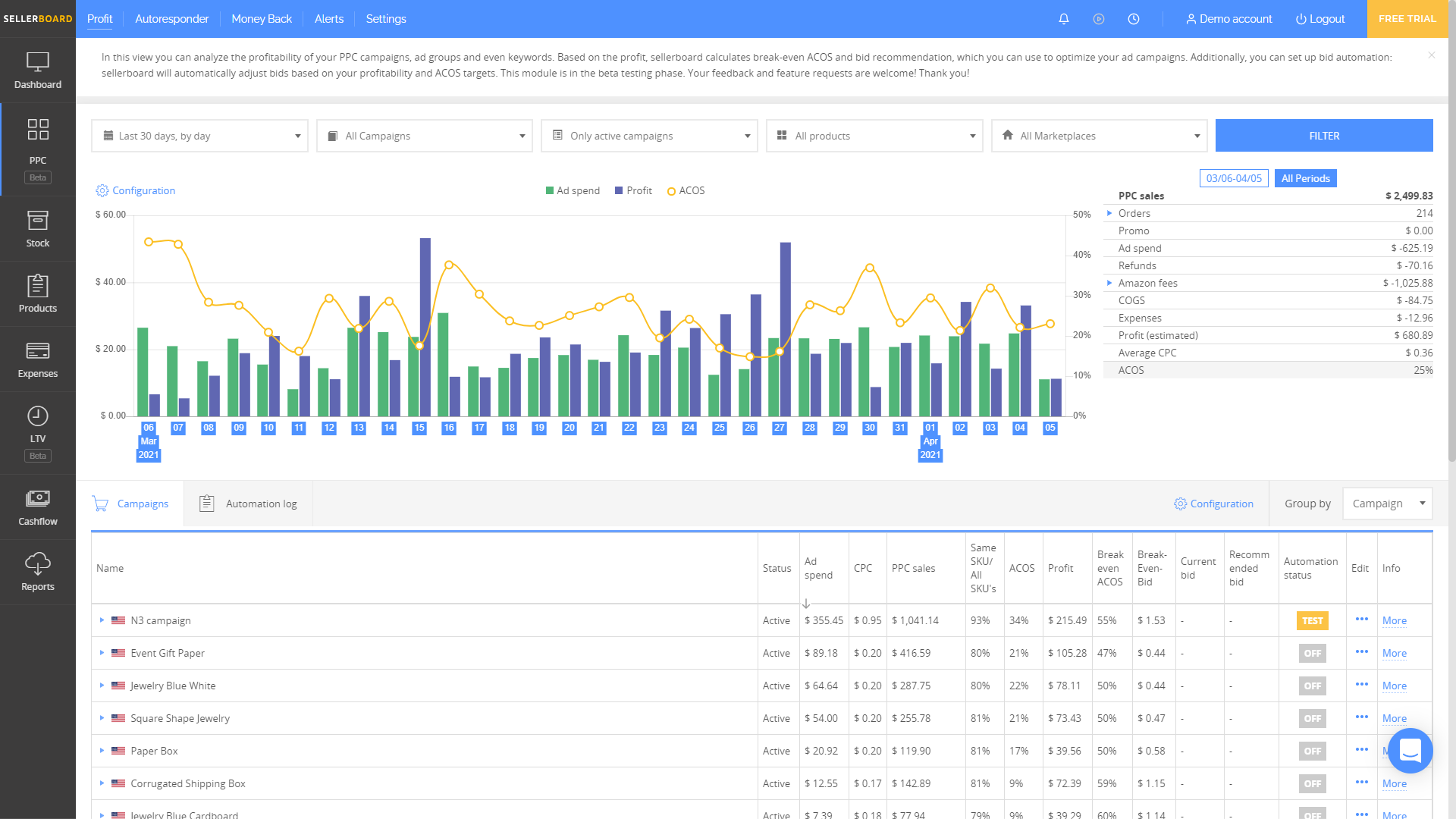 Product Breakdown
You may view the specific details (actual sales, profit, fees, expenses such as COGS, return costs, PPC spend, VAT) of any product in your inventory at any specific time period.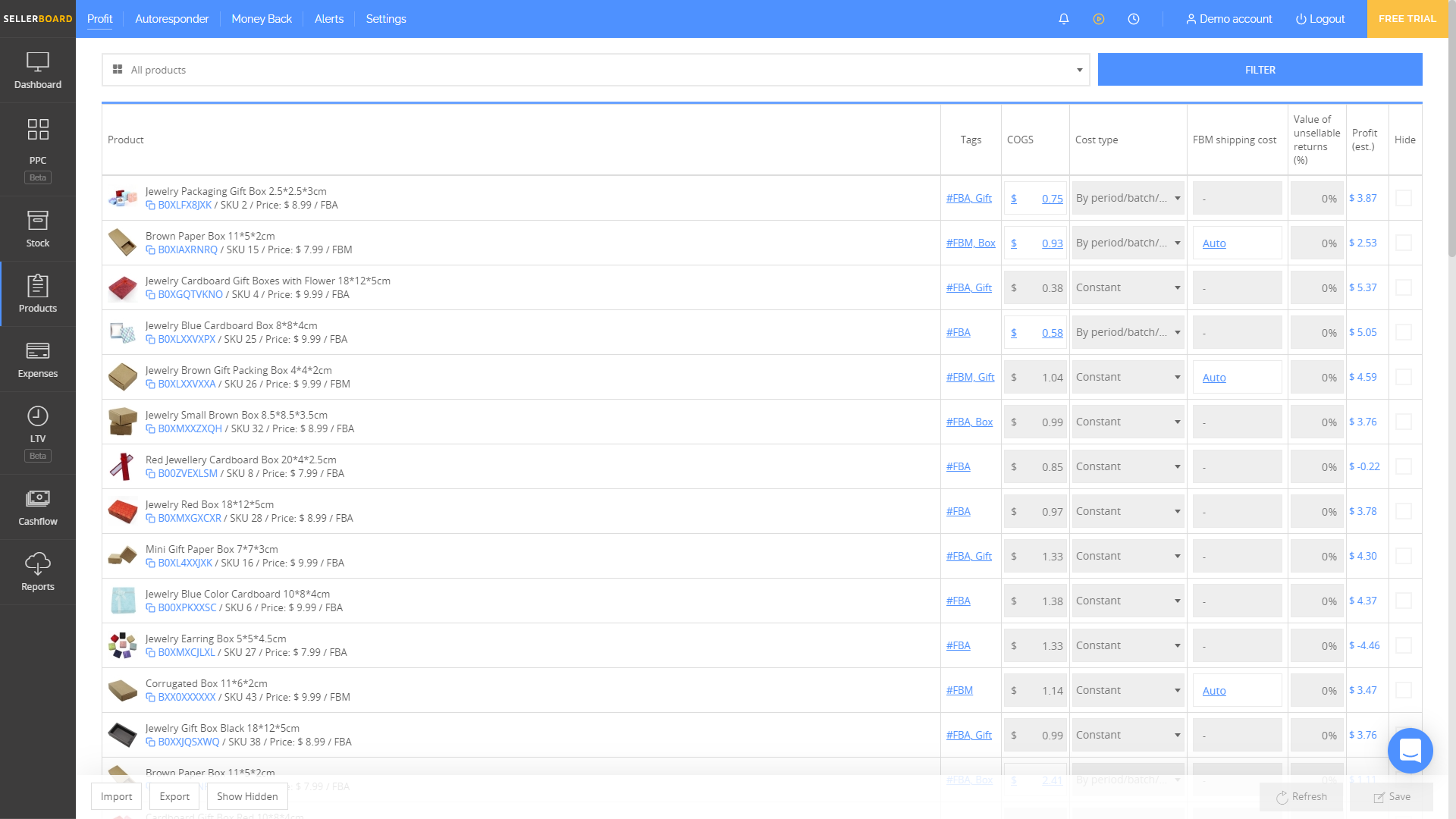 Amazon Fees Table
In this table, you'll see a detailed breakdown of all fees and reimbursements such as storage fees, long-term storage fees, inbound shipment, remission, labeling fees, and the likes.
Fixed Costs and Expenses Monitoring
Sellerboard enables you to track all of your fixed cost and recurring and product-specific expenses such as warehouse maintenance, virtual assistants, cost of samples, software tools, etc.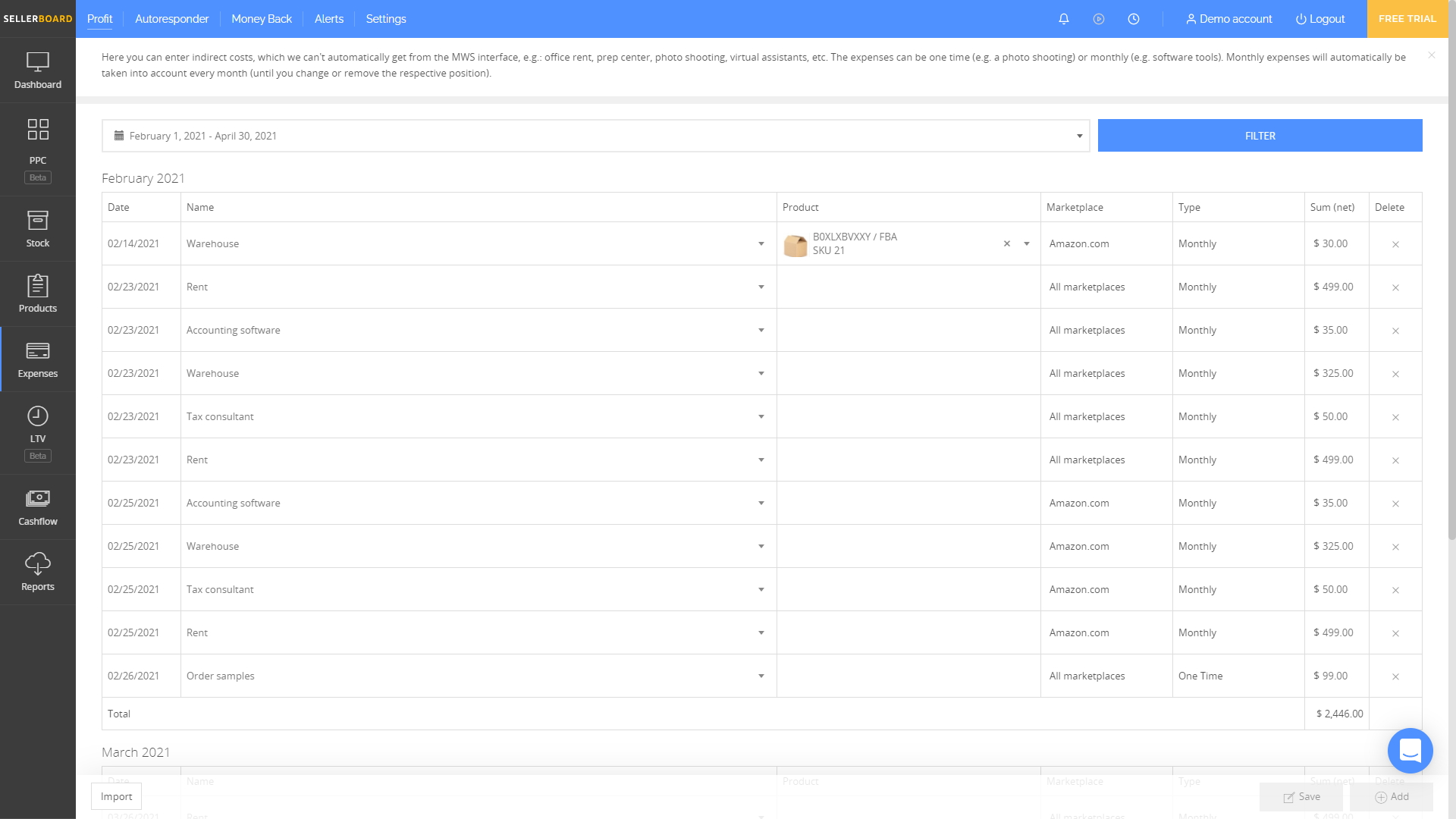 Inventory Management
Sellerboard helps prevent stock-outs by notifying you if it's time to replenish your stock in the FBA warehouse or if you already need to place a reorder with your supplier. All you need to do is provide production or shipment time and Sellerboard will automatically calculate the lead time based on the products 3, 7, and 30-day sales velocity.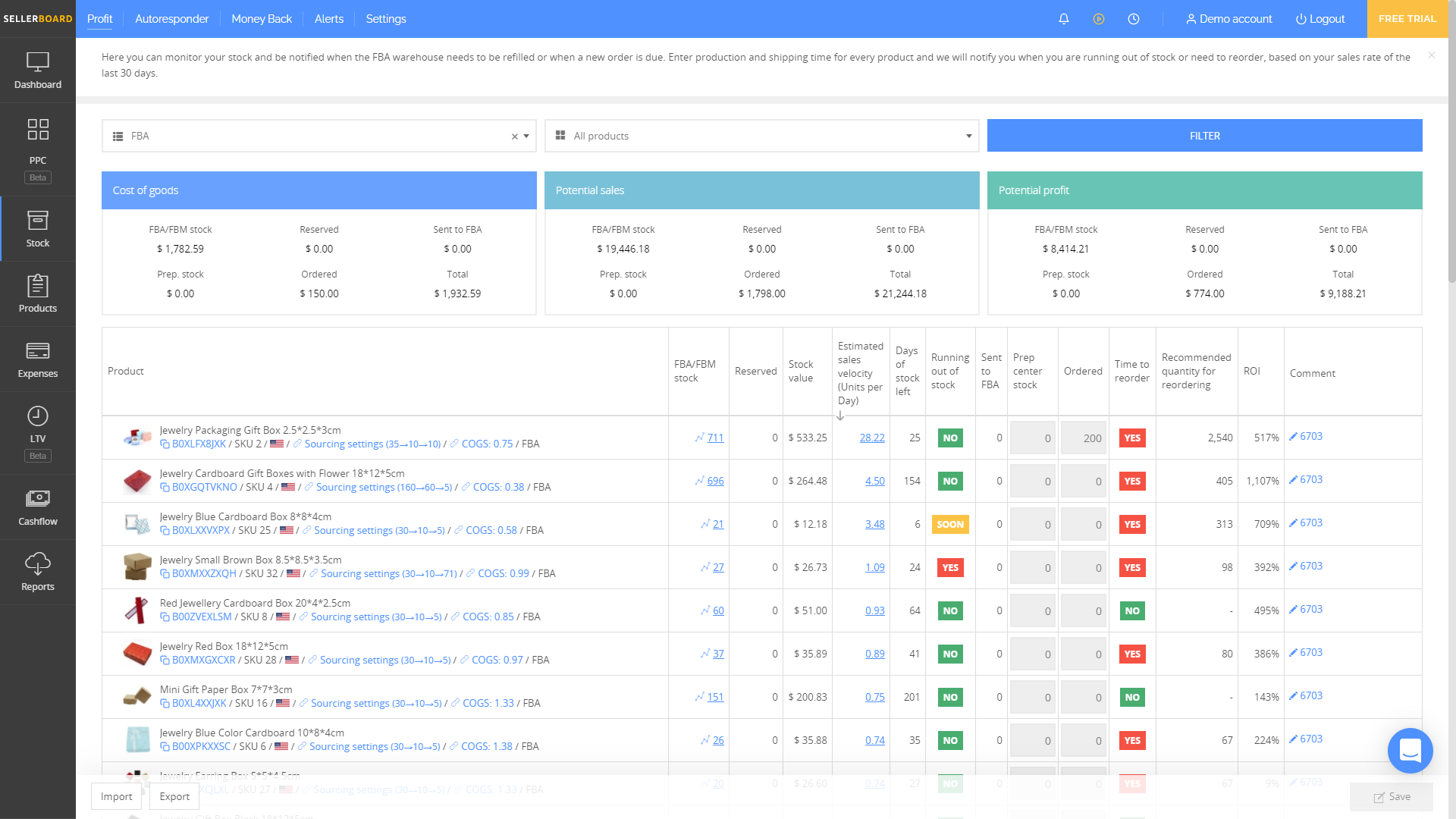 Data Export
Data from Sellerboard (by product or time period) can be exported as a spreadsheet or text file which you may modify using tools such as Excel.
Automated Reporting
In "Reports", you can manually download various types of data reports in different file formats. Sellerboard also has an automation feature that will allow you to set a schedule for these reports to automatically run. These reports will be accessible as a mail attachment or a protected web feed, which you may then integrate into third-party applications like spreadsheets.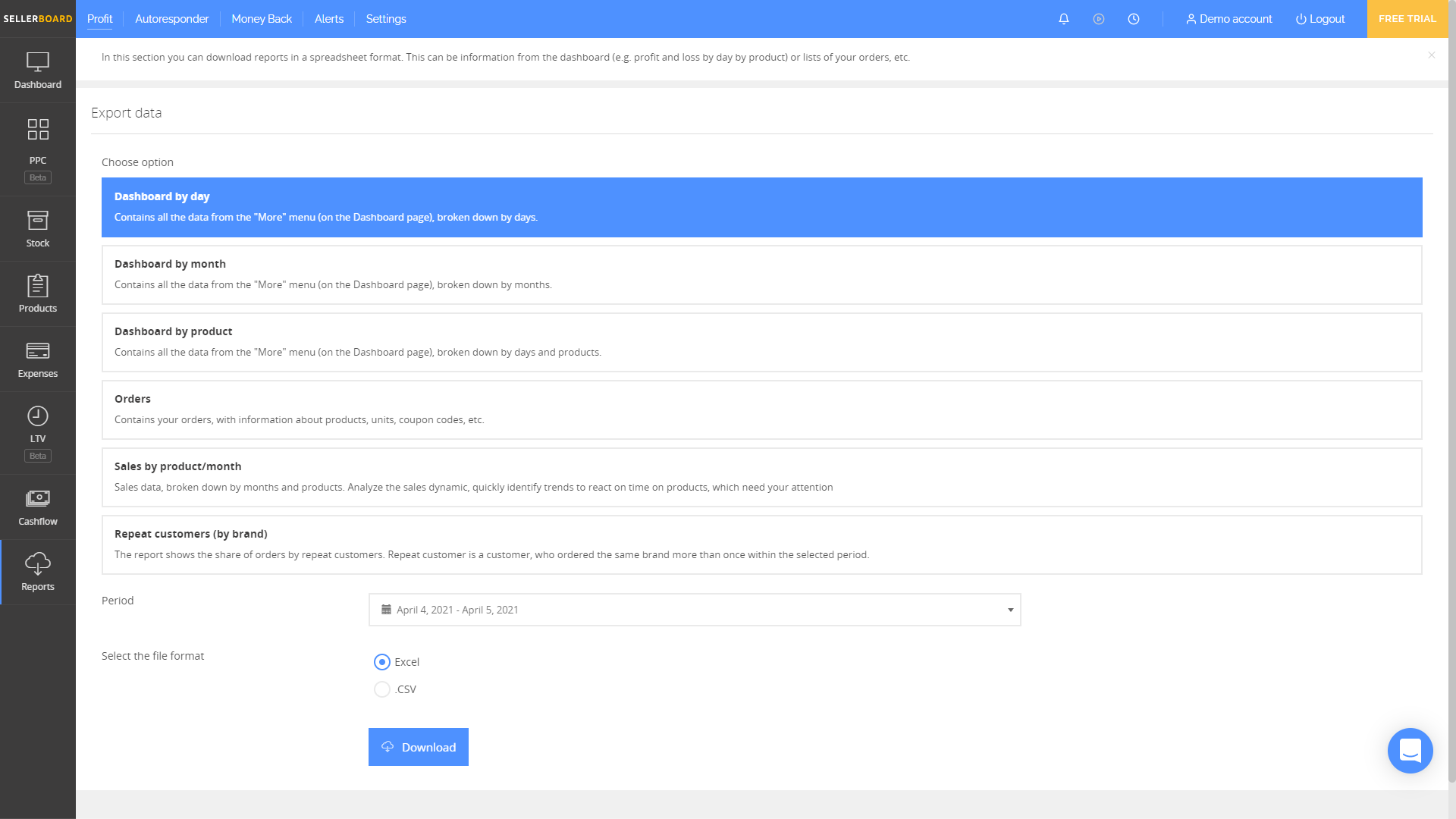 Feedback Request Automation and Email Follow Up Campaigns
You can send automated messages to your customers to collect positive feedback or product reviews and to provide better customer service through this feature. You have the option to use messages based on Amazon's standard "request a review" template or your own custom email templates. Create custom email campaigns that target specific products, countries, marketplaces, or repeat customers, and set the schedule when specific messages will be sent.
Refunds for Lost, Damaged, Destroyed Inventory, and Incomplete Returns
Sellerboard tracks down instances in which Amazon owes you money and prepares a message template that you can use to file cases for reimbursement. Instances in which you are owed reimbursement are as follows:

Inventory lost or damaged by Amazon employees at the warehouse.

Returns in which the customer was reimbursed but the item was never returned.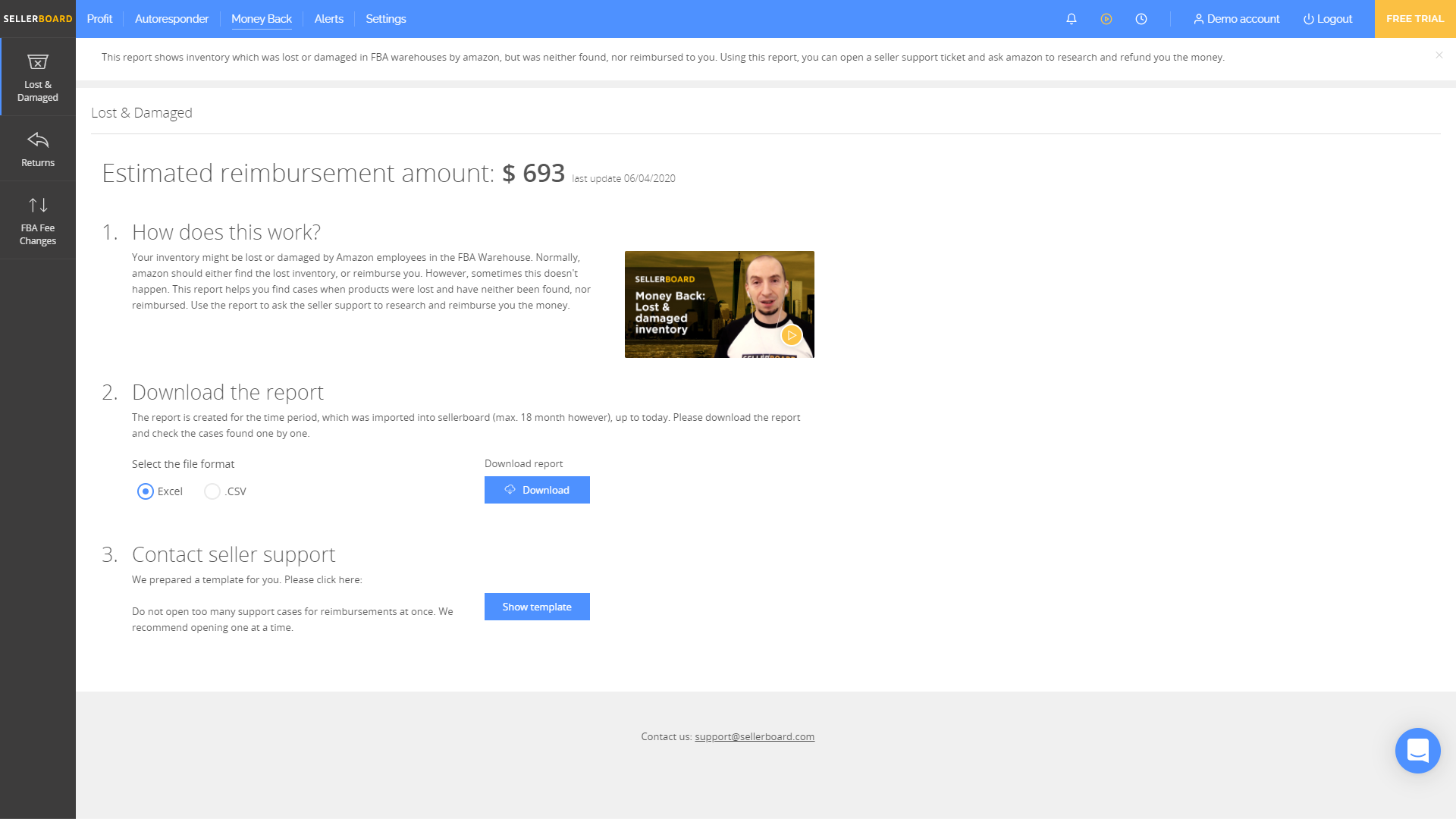 Users and Rights Management
Sellerboard allows you to give multiple users access to your Sellerboard account. Each user will have their own log-in credentials, and you can configure their permissions to limit their access to only specific areas of your account.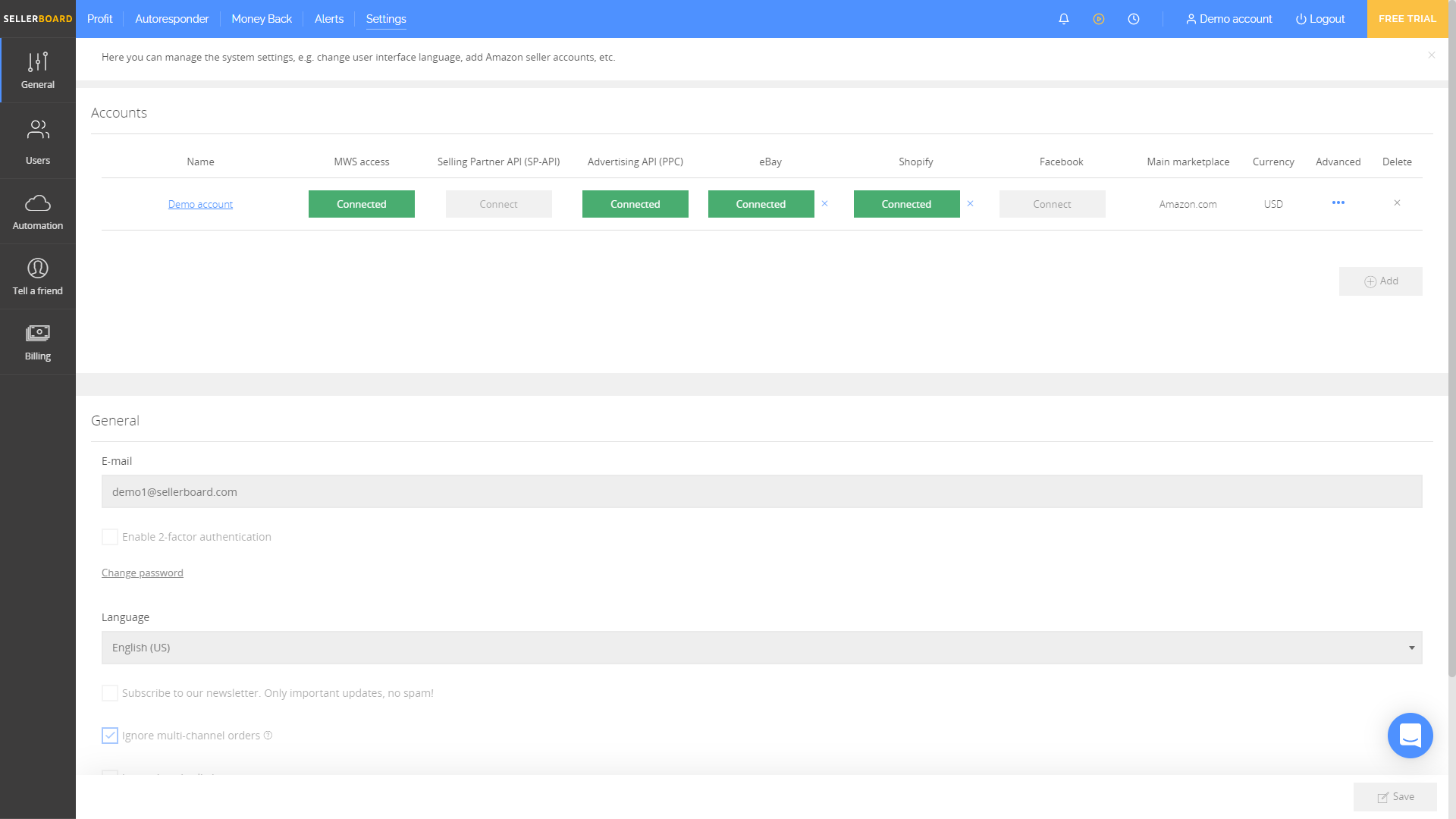 Listing Change Alerts
Sellerboard notifies you via email if there have been changes made to your listing that you will need to act on. You will be notified of the following:

Changes in the product title, description, main image, product category.

Buy Box loss and new sellers on the listing.

Changes in FBA fee, product dimensions, or referral fee.

Negative or neutral customer feedback.

Parent ASIN removed, changed, or new child variations added.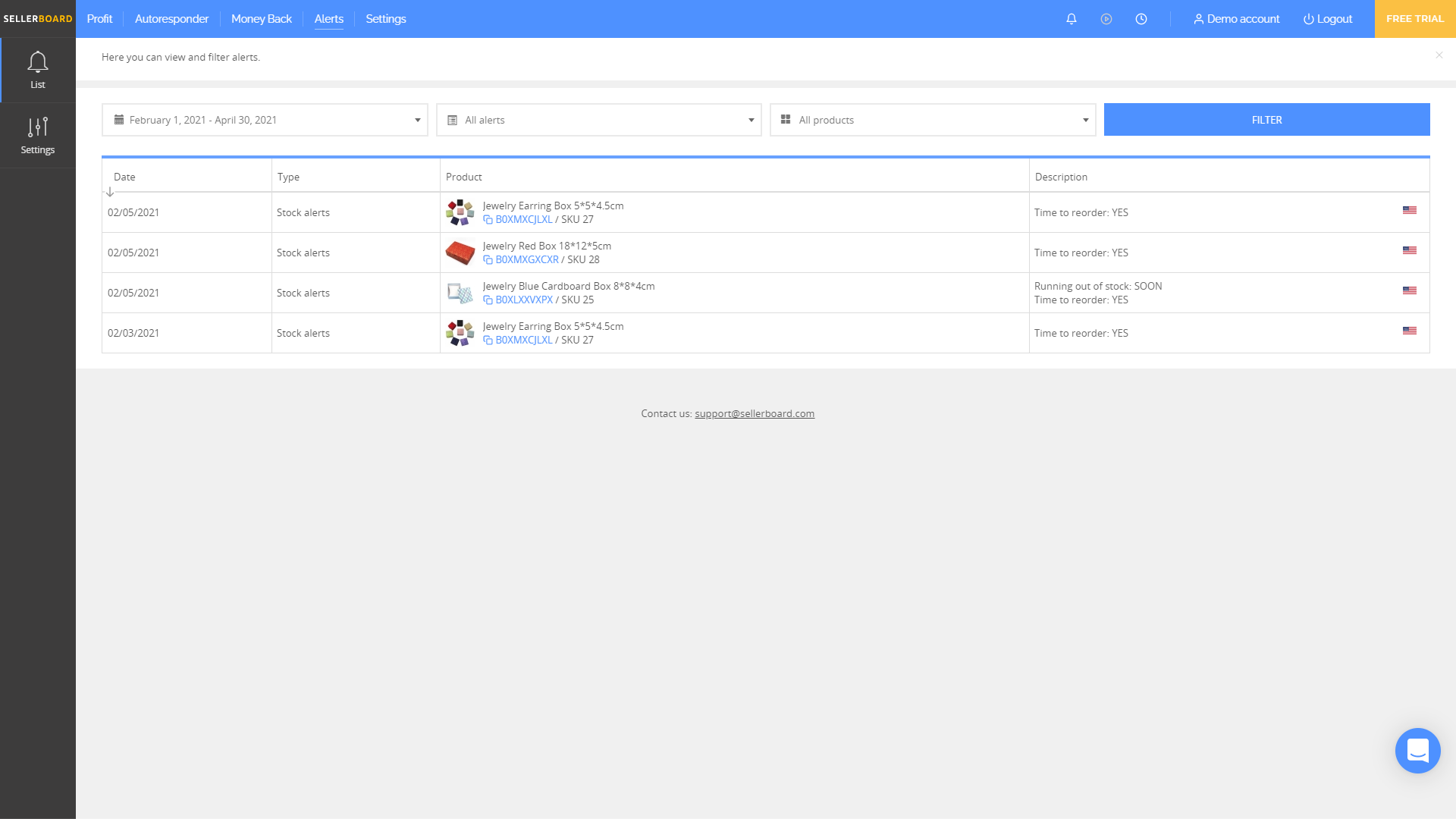 What We Love about It – The Pros
A Highly Versatile, All-In-One Tool
Aside from its accounting capabilities, Sellerboard possesses powerful features that allow you to manage various aspects of your Amazon business from a single platform. It enables you to easily keep track of your finances, manage your inventory efficiently, and optimize your sales performance to hit your short-term and long-term goals. It pretty much addresses almost all of a seller's needs (whether you are a newbie just starting out or a seasoned seller), so you won't have to shell out money for different software tools to manage and grow your Amazon business. Also, it has a mobile app which is available for iOS and Android devices, so you'll also be able to manage your account while away from your desktop. The versatility of this Amazon FBA accounting software is one of the main reasons why its popularity continues to grow.
Ease of Use, Accuracy, and Benefits for Your Business
We love Sellerboard's clean interface. The data presented is easy to understand and gives you a clear picture of how your business is performing because it takes into account all hidden costs and expenses, making its data from profit-cost analysis highly accurate. As a result, it will be so much easier for you to make effective data-based decisions that will grow your business.
Client Support
We are seriously impressed with Sellerboard's responsive, capable, and innovative customer support team, which is available 24 hours a day, 7 days a week. They get back to all inquiries within 24 hours and are very open to implementing enhancement requests from clients since they work closely with their technical team. Also, Sellerboard provides its users with an extensive knowledge database that contains detailed instructional videos that can really lower the learning curve of the software.
Sellerboard Pricing
If you take a look at the features we discussed previously, it's very hard to believe that Sellerboard's entry-level plan only goes for $15 a month (Standard – 3,000 orders). The next plan tiers are also very affordable – Professional ($23/monthly – 6,000 order), Business ($31/monthly – 15,000 orders), and Enterprise ($63/monthly – 50,000). What's also great about Sellerboard is that it makes almost all of its features available in all of the plan tiers. They also offer a free trial and a money-back guarantee.
What We're Not Crazy About – The Cons
(Kindly take note that the observations noted here were made during the time of the review. Information presented here will be updated if applicable.)
We're very impressed with Sellerboard and the cons we mentioned here are very minor limitations to what is a very impressive accounting software solution:
Manage Users Access Rights By Account, Marketplaces, and Products Feature Is Only Available in the Enterprise Plan
Unfortunately, this feature which allows you to customize user permissions for multiple users is only available in Sellerboard's most expensive plan, the Enterprise which costs $63 a month.
No Listing Optimization Feature
We read that this feature used to be included in the software, but was removed. Considering the features Sellerboard already has, we may already be asking too much, but this missing feature prevents us from calling it a "complete" tool.
Color Scheme
We may be nitpicking here, but people are visual creatures and we find the color scheme used by Sellerboard to be a little drab. Adding more vibrant colors may help boost aesthetics, increasing the user's engagement and productivity.
Lack of Customization for the Boxes and Panels
Again, more of an aesthetics issue than a functional one, but would be a great addition to Sellerboard nonetheless.
Our Final Take: Should You Get Sellerboard?
Please read before proceeding:
We participate in affiliate programs to fund Seller Spaceship. Some of the links you will find in our articles are affiliate links, which means that if you purchase a product using our link, we will earn a small commision. This does not, however, come with any additional cost to you, and we guarantee that our reviews will never be based on whether we will earn a commision off a product or not. We stand by our mission to provide objective and informative reviews. That being said, if you do find our product/service review helpful and decide to purchase a product or service we review, we would really appreciate it if you use our links to do so. It will really help the Seller Spaceship team a lot in providing you with awesome content that can hopefully help your business!
YES. Despite being relatively new to the game, Sellerboard's impressive set of features is enough for us to make the recommendation.
Sellerboard is very affordable and is within the reach of smaller sellers who are operating on a limited budget. And as mentioned earlier, it can effectively address the needs of a newbie just starting out or a seasoned seller dealing with hundreds or even thousands of products.
The profit-cost analysis capabilities of Sellerboard are also on point and is another reason why we strongly recommend this Amazon FBA accounting software. It gives you clear insight into your business's financial health and will help you make the proper adjustments needed to bring your business to the next level.
Moreover, because Sellerboard enables you to efficiently mine for data at a product level, it's perfect for sellers who do online and retail arbitrage because these sellers often carry a large number of different types of products in their inventory. This capability of Sellerboard makes the accounting software a good fit for people who utilize these types of models for their Amazon businesses.  
Is there anything you love about Sellerboard that we weren't able to mention in the article? Is there a feature that has really helped your business that you'd like to share? Do you have more questions about this awesome software? Post a comment and join in on the discussion. We'd love to hear from you!