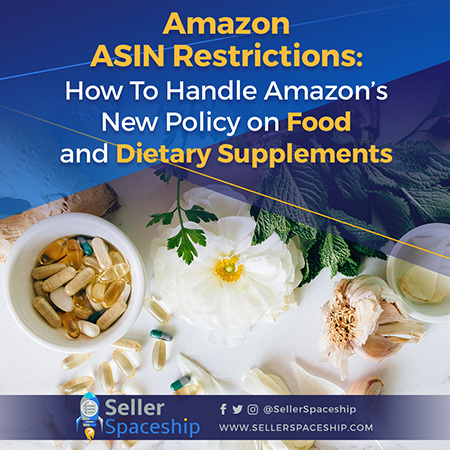 Word Count: 985
Estimated Reading Time: 3.3 minutes
We've said countless times that Amazon is constantly evolving, and most recently, there has been news of policy changes regarding ASIN restrictions that will soon be implemented in the marketplace. Of course, these restrictions will pose new challenges, and we intend to make sure our readers and subscribers stay well informed on how to address these changes as it most definitely affects the inventory we can carry and our overall bottom line.
One of the new policy changes affects one of the most profitable products us FBA sellers source; Food and Dietary supplements. If you haven't received the notification, here it is:
"Hello,
We are contacting you because you have listed one or more dietary supplement products that have updated compliance requirements. Effective July 21, 2021, you will need to submit compliance documents to obtain approval to list the affected products. If you do not obtain approval to sell these products prior to September 21, 2021, we may remove these listings.
How will this affect my existing products?
Your listings of dietary supplement products will not be affected until July 21, 2021. After July 21, 2021, you may follow the instructions below to submit compliance documentation in order to avoid removal of your listings.
Why is this happening?
The updated requirements help ensure that Dietary Supplements meet applicable regulations or standard requirements listed in this help page. To find more information about compliance requirements go to: https://sellercentral.amazon.com/gp/help/G55N3JF2WQS7RVNE 1.
How do I seek approval to sell the affected products?
After July 21, 2021, if you would like to seek approval to sell the affected products, complete the following steps to start the application process:
In Seller Central, select Performance tab, and choose Account Health
Under Product Compliance Requests in the bottom right corner of the page, click
Documentation Requests.
Click Provide Documentation or Appeal next to the product.
Select No to upload documents.
Follow the steps in the Submit required documents section.
For FBA sellers only: If you do not want to continue selling these products and have any inventory of these products remaining in our fulfillment centers, you will have 30 days from the date your listing is removed to create a removal order. You can find instructions for creating a removal order on the Remove Inventory Overview page at: https://sellercentral.amazon.com/gp/help/G200280650 1. If you do not request a removal, automated removal orders will be triggered. Standard removal fees shall apply.
The Amazon Product Compliance team"
It's important to note that all forms of dietary supplements such as powders, pills, liquid drops, oral sprays and the likes are subject to this policy.
What does this exactly mean?

And how does this affect my FBA business?

This is the burning question, and unfortunately, notifications like this from Amazon tend to raise more questions instead of providing clarity.

We reached out to Seller Support recently to get some clarification, and here's what we found out:
Not All Food and Dietary Supplements Are Subject to This New Policy
Yes, that's good news. The only supplements that are subject to this new policy are those that only come with a supplement facts panel. For these supplements, you will be required to submit compliance documentation.
However, supplements that have a nutrition facts panel are not subject to this policy, so you may continue sourcing and selling them via FBA without having to provide compliance documents.
I Have Products Already on Amazon That Are Affected by This New Policy. What Should I Do?
Here, there are only two options. You may provide compliance documents so that you may continue selling them, or create a removal order and get your products back.

If you are to provide compliance documents, here are the ones you will need to submit:
A finished product Certificate of Analysis (COA) issued by an ISO/IEC 17025 accredited lab (in-house or third-party). The valid ISO certificate showing name of accreditation body and accreditation number must also be submitted.or A finished product Certificate of Analysis (COA) issued by an in-house laboratory that is compliant with current good manufacturing practices (cGMP) per 21 CFR 111 and 117. A valid GMP certificate of the manufacturing facility must also be submitted. Amazon accepts GMP certificates from the following third-party programs: NSF (NSF/ANSI 173 Section 8), GRMA (GRMA 455-2), UL GMP, USP GMP, Eurofins, SAI Global, SGS, Intertek, TGA, and SSCI. or Evidence of Product/ASIN enrollment or participation in one of the following third-party quality certification programs: NSF/ANSI 173 Product Certification, NSF Certified for Sport®, BSCG Certified Drug Free®, Informed-Choice/Informed-Sport Program, USP Dietary Supplement Verification Program, UL Brand Certification Program.

Product Images
If you don't wish to submit compliance documents, you will have 30 days to create a removal order from the day the product listing was removed. The best option here would be to sell the supplements on other marketplaces.
Is It Worth The Time to Submit Compliance Documents?
Loaded question, and the answer pretty much depends on the opportunity you see in the product you have.

From our experience, it's quite difficult to request these documents from the manufacturer, and usually when they agree to your request, it takes a considerable amount of time to get them. Knowing how volatile prices can get on Amazon, it's possible that by the time you get the compliance documents, the price of the product has already dropped and there isn't any profit to be made anymore. Business sense dictates that it might actually be better to just create a removal order for your product and sell them elsewhere for decent product margins.

However, there might also be opportunities here. This new policy will limit the sellers for a particular product, and getting approval to sell it means less competition, which allows you and a handful of sellers to control the price. This may actually lead to better profit margins, increasing your bottom line.
We hope that this blog post sheds some light on this concern, and feel free to ask questions or add in to the conversation regarding this new policy from Amazon. We will make sure to keep everyone updated regarding ASIN restrictions in the coming days. Good luck selling!