Word Count: 
1, 492
Estimated Reading Time: 5 minutes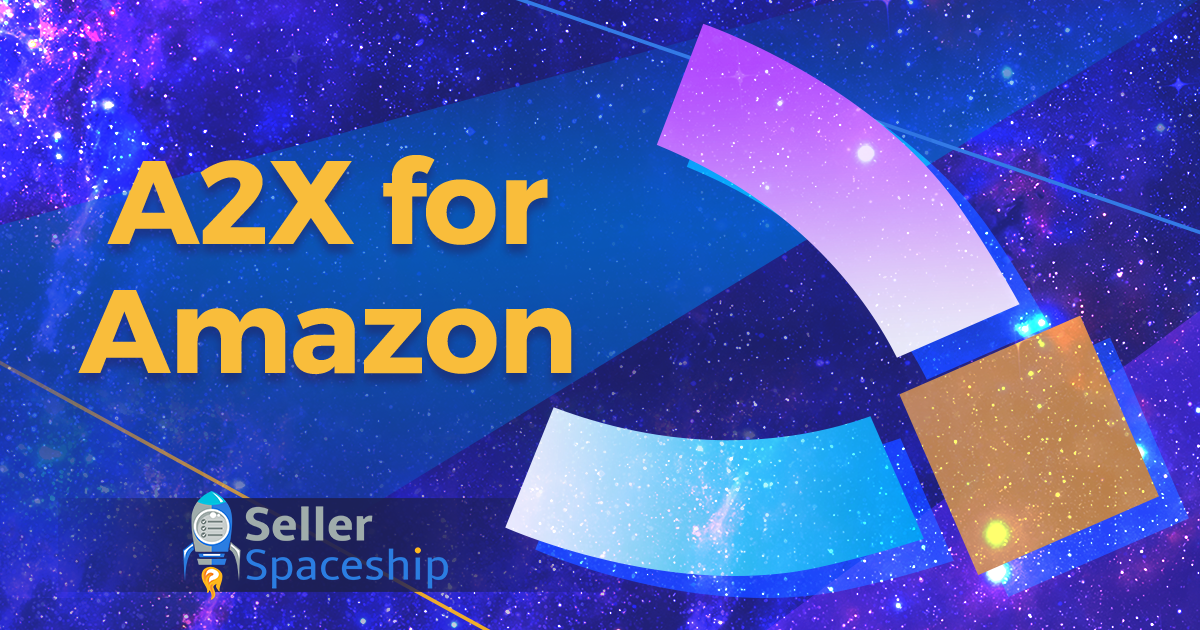 A2X for Amazon: A Quick Look
Platform
SaaS (Cloud Web App)
Pricing
Mini - $19/month
Starter - $49/month
Standard - $69/month
Premium - $139/month
Key Features Summary
Amazon Sales Data Importation, Sales to Inventory Costs Matching, Gross Margins Reporting, FBA Inventory Tracking and Value Reporting, User Customization
Integrations/Compatibility
Shopify, Quickbooks Online, Xero, Quickbooks Online Advanced, Net Suite, Cashflow, All Amazon Marketplaces
Compare to Similar Products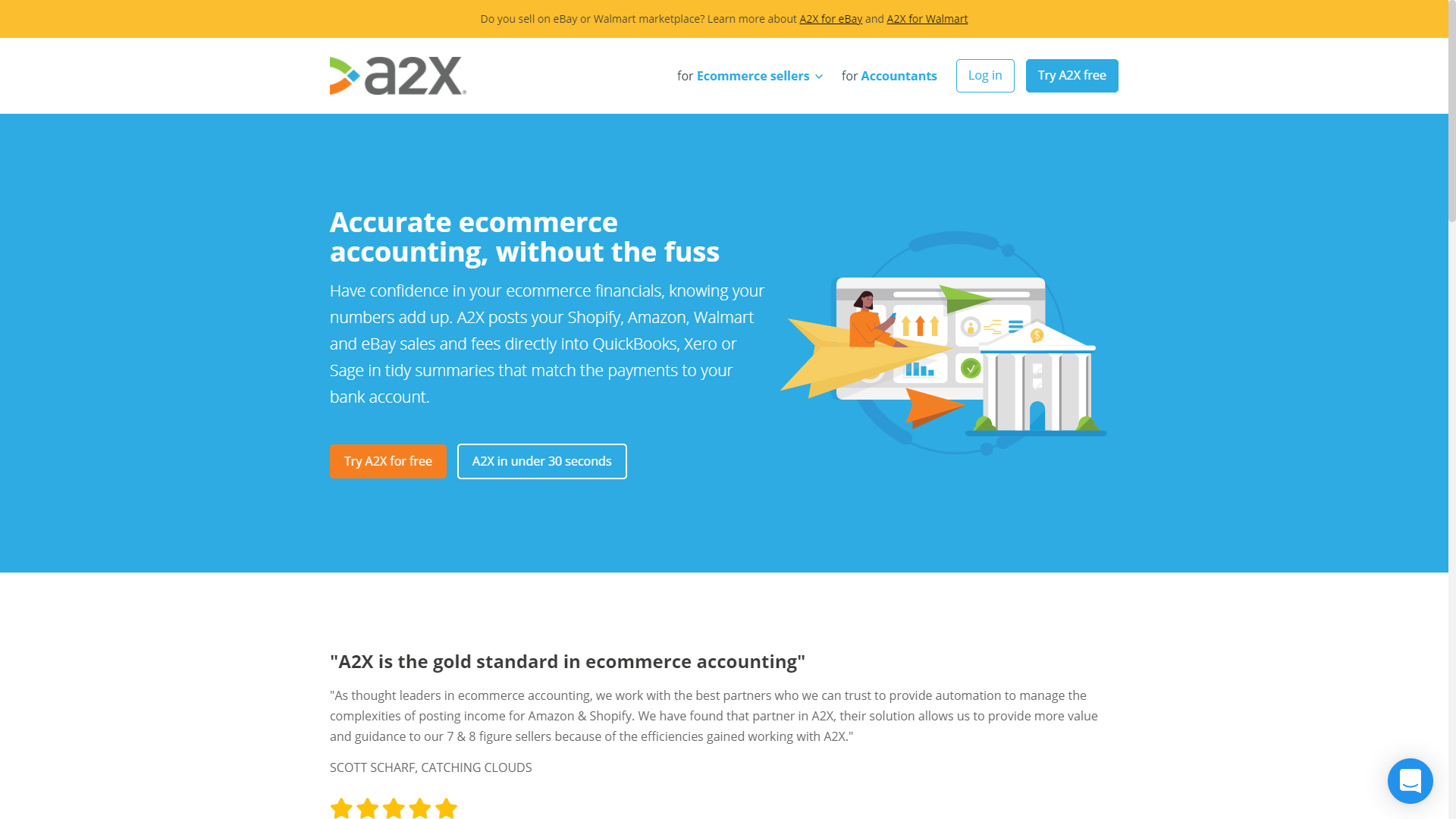 Founded by
Paul Grey
and
Ashely Schroeder
in 2014,
A2X
is an Amazon Seller Accounting Software service that provides automated eCommerce accounting solutions to eCommerce businesses around the world.
A2X
can support small to large businesses and its powerful automation features and accurate reporting allow its users to save time and dedicate themselves to growing other aspects of their business. The winner of Xero Americas' 2018 Industry Specific App of the Year,
A2X
is trusted by thousands of Amazon sellers and accountants around the world.
Marketplace Coverage

A2X can fetch settlements from any Amazon marketplace that belong in the same region. To set this up, all you need to do is connect your account to any of the marketplaces in a specific region. Once your account is connected, A2X will automatically detect other marketplaces you sell in and start pulling settlements from each marketplace which will then be posted on A2X.
The regions are as follows:
North America – US (.com), Canada (.ca), Mexico (.mx)

UK & Europe – Italy (.it), France (.fr), Germany (.de), UK (.uk), Spain (.es), Netherlands (.nl)


Asia & Pacific – Australia (.au), India (.in), Japan (.jp), United Arab Emirates (.ae)

Singapore – Singapore (.sg)

Take note that one account is only good for one region, so if you sell in various regions, you will need multiple accounts to be able to use the Amazon FBA Accounting Software in all of your marketplaces.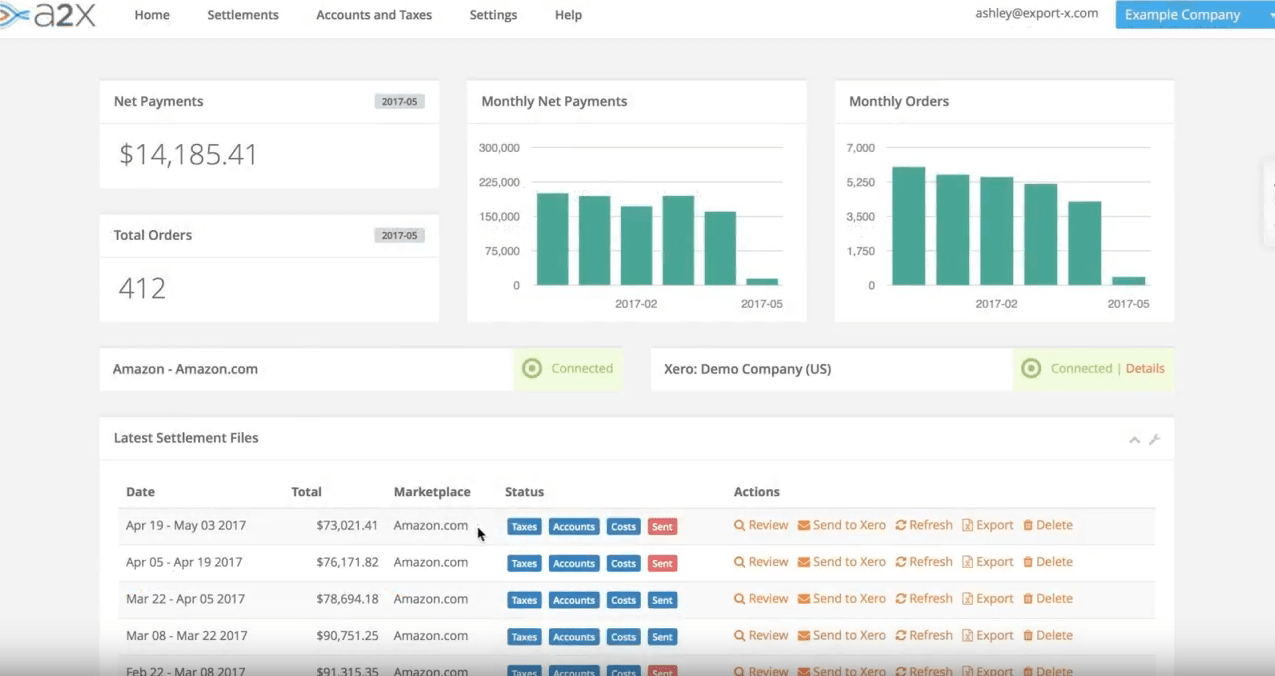 Automation and Accounting Features
A2X can be used by Amazon sellers who do FBA, FBM, or a combination of both.
A2X utilizes downloads from Amazon Seller Central with the following features:
Automated fetching of settlement reports


Automated posting of transaction summaries to Xero/Quickbooks Online

Capacity to handle large volumes of Amazon transaction data

Accrual Accounting enabled – revenue and expenses are recorded as soon as transactions occur. Full breakdown of Amazon selling fees and other expenses. Gross margins and profitability are auto-generated. Tax rates that apply to each transaction are also tracked.

Automated Cost of Goods Sold by product

Reconciliation of transactions with bank deposits

Import of historical seller data from Amazon enabled

Allows organization of Amazon sales and fees by calendar month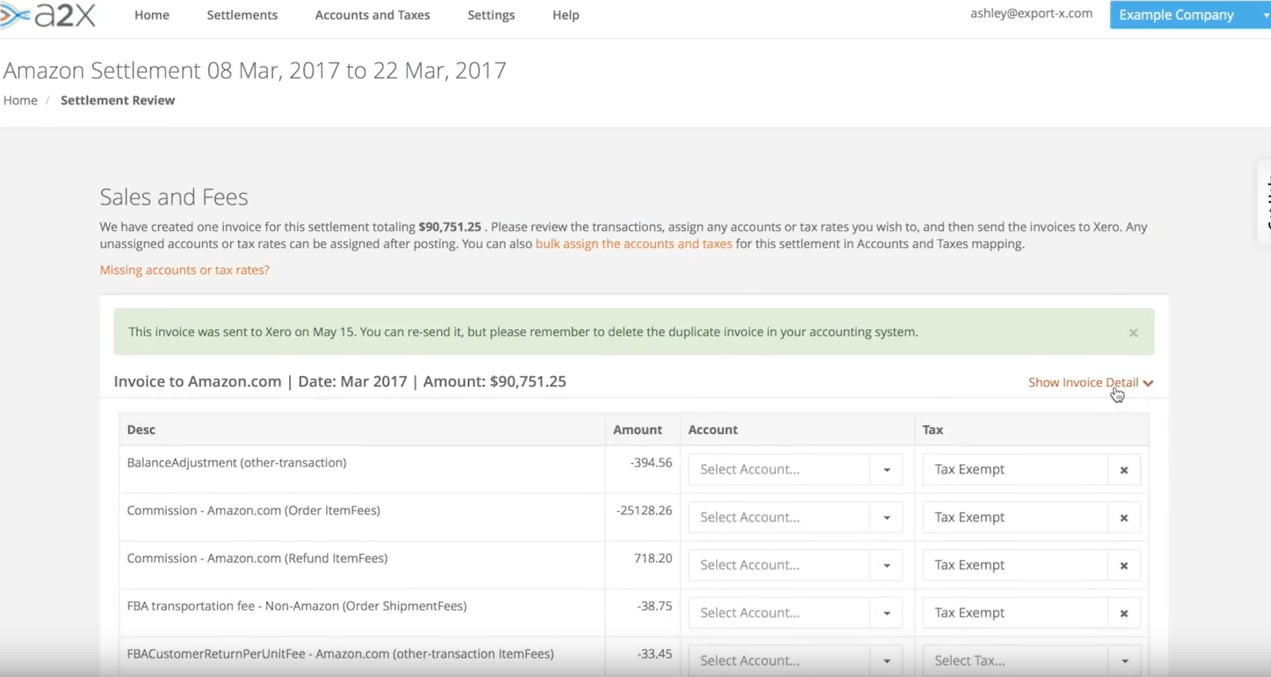 FBA Inventory Support
On a monthly basis, A2X tracks your FBA stock locations and will keep and constantly update an inventory of products that were shipped and delivered to your customers. It notes important fulfillment details such as the times and dates of each delivery.

A2X Global Support
A2X has a wide global support system and provides its users access to a network of accounting firms that have extensive experience with this Amazon FBA Accounting Software solution. These accounting firms are located in North America, Canada, the UK, Australia, Hong Kong, New Zealand, and Singapore.
Integrators
A2X can provide you with a highly personalized accounting experience, and it does so by offering integrators. An integrator designs a software system that allows you to build a "tech stack" (a collection of apps) that will allow you to customize your preferences to create an accounting system that's highly suitable for your business.
What We Love about It – The Pros
Simple, Accurate, Efficient, and Reliable
The strongest suit of A2X for us is the awesome user experience they provide. It's an exceptional software and the top-notch support they provide through their excellent customer support team and extensive knowledge database makes the onboarding process a breeze. This significantly lowers the learning curve needed to have a full understanding and know-how of the software's features and capabilities. It has a great interface and navigating your way through it is quite easy.
A2X seamlessly transfers your Amazon data to Quickbooks, which makes tracking and monitoring your sales data and closing and Amazon fees effortless. Another thing that we love, is that it enables accrual accounting and the transaction summaries are organized according to the month they occur. So you or your accountant won't have to pore through an ocean of sales data just to determine when each sale actually occurred. This makes for highly accurate books which are very important for accounting success. Keep in mind, Amazon sellers like us have a need to have not only the most accurate data reflected on our accounting software, but also data that is easy to understand and accurately represents the financial standing of our business. Moreover, filing taxes is simplified as A2X tracks applicable tax rates for each transaction. These things make working with your accountant much easier. This is what makes A2X such a valuable tool to have in your business.
A Huge Time Saver
Many users claim that they save at least 20 hours per month because of A2X and we are strongly inclined to believe so. With A2X, you won't have to do any manual data entry or bookkeeping. With each settlement, it generates well-organized journals and invoices that it auto-posts into your accounting system.
If you've been following our blog for some time, you'll know that we don't really advocate a "set it and forget it" approach, but the powerful automation features of A2X work consistently well that it tempts us to say that you can rest easy once the onboarding process is completed. It will spare you from spending hours on tedious accounting tasks such as posting and scrutinizing your Amazon deals and settlements, enabling you to spend more time maintaining and expanding your business more easily and efficiently.
A2X Pricing
Considering how powerful the A2X Accounting Software is, it's rather inexpensive. It offers several plan tiers, and as the plans get bigger, the number of orders accommodated increase and their features become more and more extensive to suit the experience, needs and demands of Amazon businesses. Prices of plans range from $19/month (Mini – 200 orders/month) to $139 (Premium – 10K orders/month). It's accessible to sellers who are starting out in a single marketplace or large merchants who deal with thousands of orders per month. Kindly refer to the chart above to see all of the plan tiers.
What We're Not Crazy About – The Cons
(Kindly take note that the observations noted here were made during the time of the review. Information presented here will be updated if applicable.)
We are seriously impressed with A2X and we only found some very minor limitations:
Reports of tax mapping issues due to countries and jurisdictions missing

No predetermined tax mapping

The need to have multiple accounts to be able to use A2X with different Amazon regions


Some minor difficulty in setting up multi-currency payments

Completed transactions are only imported as drafts in Xero

Limited inventory management features

Users need some background in accounting and tax to maximize the software

Sales data is only updated when settlement reports become available
Our Final Take: Should You Get Fetcher for Amazon?
Please read before proceeding:
We participate in affiliate programs to fund Seller Spaceship. Some of the links you will find in our articles are affiliate links, which means that if you purchase a product using our link, we will earn a small commision. This does not, however, come with any additional cost to you, and we guarantee that our reviews will never be based on whether we will earn a commision off a product or not. We stand by our mission to provide objective and informative reviews. That being said, if you do find our product/service review helpful and decide to purchase a product or service we review, we would really appreciate it if you use our links to do so. It will really help the Seller Spaceship team a lot in providing you with awesome content that can hopefully help your business!
That's a quick "YES" from us.
A2X
is an outstanding accounting solution and is currently considered as the standard bearer for Amazon accounting by a large number of professional accountants, accounting firms, and ecommerce experts.
If we were to pinpoint the main reason why you should get A2X, it would have to be its ability to help you make sense of and extrapolate highly useful and actionable data from your Amazon settlement reports, which, truth be told, don't really tell you anything. You get full visibility of your cash flow as each transaction is properly categorized and every sale and expense efficiently summarized. You get to understand your payouts as all your selling fees and refunds are all accounted for. Because you have this data, this makes it easier to reconcile your payouts and make adjustments to your books if needed, as well as reconcile your bank records. A2X does this really well and would benefit your business tremendously.
If you'd like to experience the platform for yourself without making any financial commitments, take advantage of their free trial. A2X trial period has no time limit (although you will be limited to 3 summary files) and you'll be able to preview the COGS and Inventory Valuation feature in trial mode.
Is there anything you love about A2X that we weren't able to mention in the article? Is there a feature that has really helped your business that you'd like to share? Do you have more questions about this awesome Amazon FBA Accounting Software? Post a comment and join in on the discussion. We'd love to hear from you!